Common Causes of Roof Leaks
Any roof leak is a major nuisance for homeowners, especially if it's difficult to find or repair the source of the leak. Thanks to factors like horizontal roof boards, leaks can often develop up to 10 feet away from their source.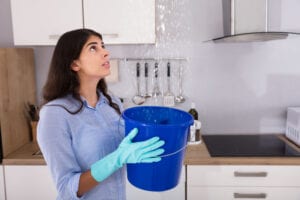 These are the most common of roof leaks to understand. Even if you plan to call in a professional roofing company to do the work, it's always helpful to have a working knowledge of your home's structures.
Field of Shingles
It's all too easy for leaks to develop within or under shingles, especially if your home's roof is older or hasn't received regular maintenance. Missing color granules and cracks are the most obvious signs of a leak in the singles, though sometimes it's as subtle as a misplaced nail.
Intersection of Two Roof Planes
The intersection of roof planes, also known as a valley, is another common source of roof leaks. If the shingles aren't trimmed correctly, water can quickly travel along the top of the singles and find its way in your house.
Chimneys
Chimneys are beautiful and functional, but also a roofing nightmare. Since chimneys contain four different types of flashing, all four must remain in optimal condition or a leak develops. Even the counterflashing the leads into brick mortar joints must be done with precision. Sometimes as small as a hairline crack above a flashing can give water the opportunity to rush behind the flashings and into your home.
Plumbing and Furnace Vent Flashings
Roof flashings use a thin material like galvanized steel to direct water away from leak-prone areas of the roof. This includes around plumbing vents and furnace vents. Unfortunately, inadequate flashings can become loose and create major leaks. It's important to regularly assess your plumbing and furnace vent flashings to catch early signs of damage.
For best results, give GWM Roofing a call for regular roofing maintenance or repairs. Our team of fully licensed and insured contractors have worked in the roofing industry for more than 20 years. We know exactly how to help you protect your residential or commercial roofing from unwanted water leaks.