Is Your Roof Prepared for Extreme Weather?
Hurricane season begins in Florida on June 1. Is your roof prepared to endure the harsh winds and rains that occur during the five months of hurricane season? Be sure to follow these tips to protect your most important investment from extreme weather.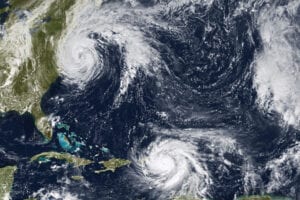 Trim Nearby Trees
Strong hurricane winds can effortlessly send trees and branches careening into your home. By trimming broken, dead, and overgrown trees, you can eliminate this threat during storms and protect the structure of your home or business.
Perform Regular Maintenance
Regular maintenance on your roof is always important, but remaining proactive before and during hurricane season ensures your roof is ready to handle severe weather. Simple roofing maintenance can identify small issues before they become major (and expensive) problems.
Clear Gutters and Drains
Clear gutters and drains make it much easier for rain to move from the roof to the ground. If you fail to clear your gutters and drains before hurricane season arrives, backed-up water will sit on your roof and make it far more vulnerable to leaks.
Schedule a Roof Evaluation
Above all, the easiest way to prepare for Florida's notorious extreme weather is to call a local roofing company for an annual evaluation. A knowledgeable contractor knows exactly how to assess the condition of your roof and find even the most subtle signs of trouble.
When you call GWM Roofing in Jacksonville, Florida, for an evaluation, you can trust us to check and double check the integrity of your roofing structures. We check your roof for the following red flags:
Rips, punctures, holes, or effects of aging in the roofing membrane
Flashings that are poorly attached and sealed
Equipment and penetrations that are improperly sealed or loosely attached
Gutters, grains, and downspouts that aren't properly attached and flowing
For best results, give GWM Roofing a call before and after hurricane season. Our team of fully licensed and insured contractors have worked in the roofing industry for more than 20 years. We know exactly how to help you protect your residential or commercial roofing from Florida's worst weather.